EEPROM Memory IC Kb (32K x 8) I²C 1MHz ns 8-SO. Substitute options. MBWMN6TP STMicroelectronics | ND DigiKey Electronics. The M is a K-Bit I²C-compatible EEPROM (Electrically Erasable PROgrammable Memory) organized as 32K × 8-bits. The MBW can operate. EEPROM Memory IC Kb (32K x 8) I²C 1MHz ns 8-TSSOP. M BWDW6TP STMicroelectronics | ND DigiKey Electronics.
| | |
| --- | --- |
| Author: | Akinozragore Samular |
| Country: | Cuba |
| Language: | English (Spanish) |
| Genre: | Medical |
| Published (Last): | 3 July 2016 |
| Pages: | 396 |
| PDF File Size: | 5.34 Mb |
| ePub File Size: | 18.46 Mb |
| ISBN: | 983-8-53974-234-8 |
| Downloads: | 72690 |
| Price: | Free* [*Free Regsitration Required] |
| Uploader: | Memi |
Haven't received registration validation E-mail? User Control Panel Log out. Forums Posts Latest Posts.
ST Microelectronics – datasheet pdf
Forum Themes Elegant Mobile. Essentials Only Full Version.
My problem is that I can write data one-byte-at-a-time, but when I try to do "page writes", the data is not written. I am using Microchip's I2C peripheral library on C30 3. My board Vcc is 2.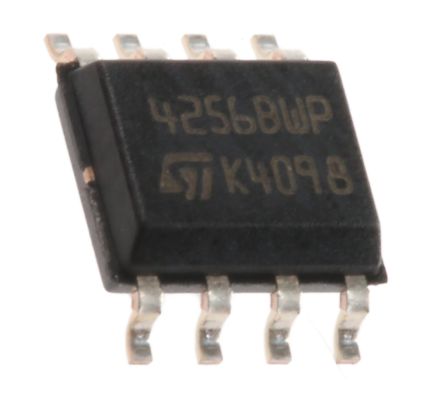 That should cover the setup. The spec sheet says that you do page writes I am not "rolling over" the 64 byte boundary thus: I've tried both fixed 10ms wait at end of write cycle, and the data sheet's use of ACK polling to speed the write. Here is my page write code: There are of these, at up to 5ms each, this works, but it is a LOT of wasted time!
I am at a loss – Does anyone know the secret decoder ring handshake to get the page write to work? I'm at a loss experts, I know some of you have used page write, so I'm simply just not getting something right.
I am following the spec sheet exactly, my scope says things are doing what I expect. Clearly, one of my assumptions is incorrect. I'll take any suggestions. Thanks, DLC post edited by dlc frii.
I don't know about your problem since I don't recognize your processor PIC27??? On advice here I switched to bit-banging mode instead and then I could finish that subsystem on my board in a day and a half. I2C read interface not m2456 and: I2C failure in master mode. Shouldn't the code be looking for an ACK after each write, rather than an idle?
You appear to not have a limit on how much data is being written, unless you are always writing from the highest address down to address zero? The IdleI2C1 is needed to know when the bus is ready to be used again. Even then, who is there in an embedded program to tell? If you can't do anything about an error condition, m24265 if that condition doesn't cause something else to blow up, what value is it to even look for the error?
Since you noticed I don't have a length to ewprom for in the transaction, you touched upon why the whole thing isn't working, indirectly. My data is binary.
ST Microelectronics
Do you see the error now? What looked like a partial write, or no write at all was really the routine stopping at the first zero in the data. There are a lot of zeros in binary data. I wanted to slam my head against a wall, duh! So, if anyone else is reading this – Remember the big distinction between strings and binary!
So if you don't care if the data is written correctly, why even write the data? Back AWAY from the bridge Debug breakpoints automatically disabled 16F88 cannot set internal oscillator frequency beyond Why does my PIC32 run slower than expected? Texas and Sweden Status: DLC Dennis Clark dlc frii.